The FIREBRAND Vision is an urgent prophetic clarion call from our Heavenly Father, to awaken a generation that is hungry for His Spirit and burning with passionate desire for Him in this final hour.
Our books in the FIREBRAND Book Series have been powerful tools through which the Lord is schooling His saints to partner with Him in advancing Kingdom Agenda today. Till date, we've published FIREBRAND, FIREBRAND Forerunners, FIREBRAND Prayer Journal and FIREBRAND Reawaken Devotional.
The FIREBRAND Book Clubs provide reading communities and accountability groups to help you learn and grow with other believers, drawing insights from books in the FIRERBRAND Series. This edition hosts two books for FIREBRAND and FIREBRAND Forerunners. You can only join ONE Book Club.
JOIN a FIREBRAND BOOK CLUB TODAY!!!
Click on ONE of the fliers below to join ONE of the Book Clubs
FIREBRAND Book is a propelling invitation to become God's kind of wo[man] – aglow, aflame and ablaze. FIREBRAND is the beginning of a beautiful journey, where you begin to see yourself in a whole new way; not merely as a wo[man] trying to find your way through life, but as a breathing institution, birthing an awakening, and establishing Heaven on Earth.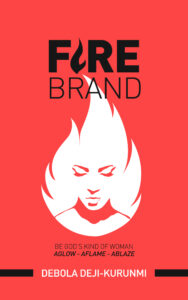 FIREBRAND Forerunners Book is an alarm of the spirit to the Finishing Generation. The Ecclesia Army is arising and they will no longer make their relationship with the Holy Spirit a merely personal possession, but will turn that revival into a wildfire that will accomplish the purpose of God for their generation and finish His work.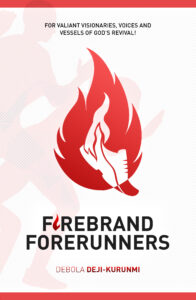 Registration for FIREBRAND Book Clubs ends on Friday, 25th of June 2021
The FIREBRAND Book Club is for you if:
You want to know how to yield to the leadership of the the Holy Spirit so that He can do a deep work within you.
You are ready to be pruned, prepared and propelled to blaze as a burning and shinning light in these last days.
You sense deep hunger and divine restlessness in your spirit but you don't know how to steward it.
You desire Firebrand friendships, community and covenant relationships.
You want to be healed of inconsistency, cold altars and blurry visions
You want to discover your divine portion in the grand scale of God's Kingdom Agenda
You desire to be refined by God's purifying fire so that you can accurately represent Him
Join ONE Book Club TODAY!
Register here for FREE
FIRERBAND Book Testimonies
I found this book after I had a prayer encounter with the Lord telling me that my daughter was a FIREBRAND. I had never heard of that word so I started looking it up in the dictionary and eventually started looking it up on Amazon. That is when I found this book [FIREBRAND Book] and downloaded a sample. After reading the sample I realized that she was a believer in the Lord just like me and then bought the book. This book is filled with scriptures and it is written line upon line following after God and staying in alignment with God's Word. It is an intense call to reach out to God in prayer and give everything you are and have to Him so He can give everything He is to you. I love this book. I hope to process this word fully in my own life and bring it to ladies of my church. This is a must read for any man or woman wanting an awakening of God.
This book is a MUST read for every serious minded Christian. I felt a revival in my spirit as i read through the book as every word and sentence were DIVINELY crafted and penned down for a Blessing!!! I love U DDK
FIREBRAND Book is written for the wo[man] who wants more. If you are tired of making poor decisions and taking wrong choices, if you are tired of complacency, weak friendships, lukewarm relationship with God, fair wealth commitments to purpose, pursuits and goals, if you are tired of living an empty and shallow life; then FIREBAND Book is your life saver. The 10 chapters, 300+ paged book is keen on speaking to the wo[man] on your inside, setting you ablaze, aglow and aflame; sharpening your consciousness to who you can be and igniting the fire and pump for the journey to rediscovery.
FIREBRAND Forerunners Book Testimonies
FIREBRAND Forerunners Book is a deeply rooted spiritual book that carries so much fire like the name it's called. Every chapter of it is highly inspiring and constantly leaves you with a note of urgency to begin the work of a Forerunner if you haven't started and also gives you reasons to continue even more fervently if you have ever started. The Book carries a note of urgency and increases my appetite for evangelism which is what Christ Himself demands of very believer! Each chapter is so direct that it makes me so eager to know what the next has in stock! My life is lit with the study of this book!
FIREBRAND Forerunners Book is a prophecy, prayer, worship and confession wrapped into one! It feels like I'm in FIREBRAND Forerunners Bible School all over again. This is the kind of book that leaves you permanently marked, your mind stretvhed never to return back to normal. It shifts your attention from the mundane to that which is of eternal consequence. It is creating such urgency in my spirit and connecting the dots of things revealed in my secret place. As I read, pray, journal and confess my way through this Book, I feel a bubbling breaking forth in my spirit. The Holy Spirit keeps saying, 'the harvester will overtake the sower.' I am re-introduced to the Holy Spirit. Gosh!!! Thank you so much DDK. God bless you.
WHAT DOES THE BOOK CLUB HAVE FOR YOU?
12 Weeks journey of consecration, pruning and purification with the Holy Spirit that will transform you so that you can transform the world. 
Learn #DDK's hacks on how to  speed read and get the very best out of the Books.
Experienced and trained faculty members who will set the learning atmosphere for God to invade you!
A Learning Community to deepen your encounters with God, practical wisdom, scriptural answers to the lingering questions in your heart etc ,
You should look out for the following and more
Simple and easy guide reading calendar
Worksheet, reflective questions, snippets and guidelines on chapters to be covered weekly
Powerful and rich weekly reviews
Hunger Pangs Prayers
Word Puzzle curated from each chapter
bi-weekly mini FIREBRAND Festivals
Group mentorship, accountability and discipleship
Webinar with DDK – Q & A Sessions, Prayer Revivals, Teachings and Worksheets
Join ONE Book Club TODAY!
Register here for FREE
FREQUENTLY ASKED QUESTIONS