FIREBRAND Forerunners
Bible School Courses
FIREBRAND Movement's
Vision
FIREBRAND Movement's vision is an urgent prophetic clarion call from our Heavenly Father, to awaken a generation that is hungry for His Spirit and burning with passionate desire for Him in this final hour.
We believe the Holy Spirit wants to show us the pleasure we have never known in the place of prayer, the ecstasy we've never tasted in worship and the wonder we've never tasted in communion.
The beginning of the revival is not a church ready to change the world, but a people ready to be changed by God. It is not first in what we can do for Him, but what He must do in us.
Are you ready for a revival? Check out our courses below
A Quick Snapshot of our Courses
.................................. .........
A Pure Heart is the access code to deeper places in God! GET Schooled.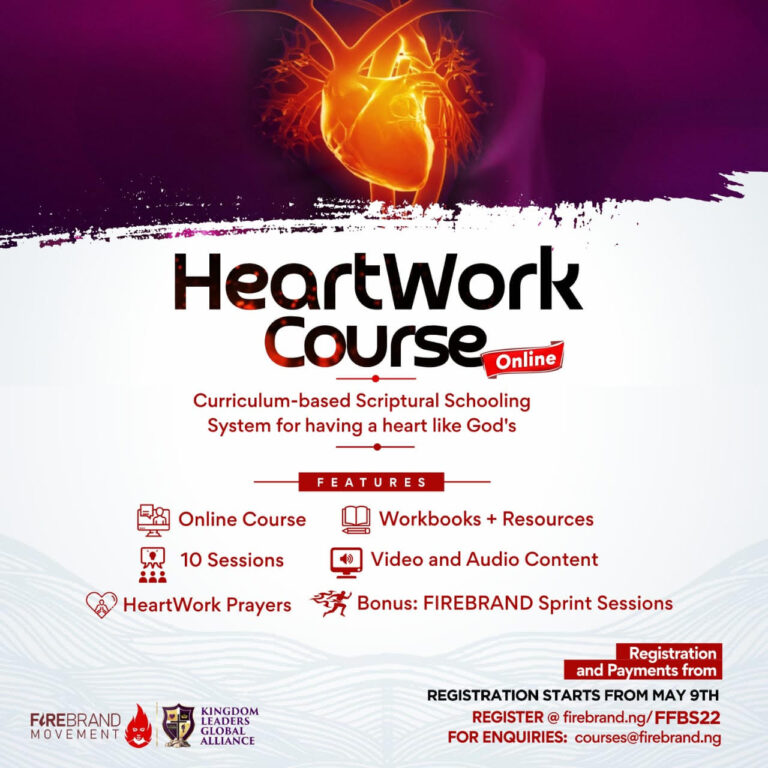 The HeartWork Course is a Scriptural Schooling System to cleanse, grow and propel believers into having a heart like God's. The HeartWork Course is a heart revival by the Holy Spirit upon believers. If you will be used by God, the Lord must prepare your heart to bear His counsel.
It is a Self-Paced Schooling of the Spirit that causes your heart to be transformed into a Spiritual heart.
Sessions include Core Teaching Modules, complete with valuable resources and prophetic activations that would release you into a deeper degree of maturity in Christ.
This Course is an intensive experience of scriptural schooling, and will hold virtually as a Self-Paced Course.
Unlock Deeper Places with God
HeartWork Course is for you if;
Testimonials from HeartWork Course
The HeartWork course was a course I needed at this point in my spiritual journey. I was confronted with seeing the difference between who I currently am, and who God is calling me to be. God is calling me heavenwards and breaking me free from the manifestations of the carnal mind. This course has led me to know that God has a SPEC and every day of my life I access His heart and know how He wants me to be and what He wants me to do. I am striving not to do anything outside of Him and that once I am totally dependent on Him as my source, He will do His quick work in me.
The HeartWork course with PDDK has been eye opening. I learnt how easy it is to be subtly carnal even though we have Christ in our lives. By the reason of the course, I now understand what it means to TOTALLY submit to the Lordship of Christ and I have taken the cue to always die to my flesh and lean on the provision of the Spirit daily. I've also learnt to learn about Christ everyday by walking in the Spirit. During the course, the Lord also helped me to understand my assignments and opened up to me how the Christian walk is not by human power or might but by the Holy Spirit. I'm very grateful for this course, I'm thankful for the work the Lord is doing on my heart. Thank You, PDDK. I love you ma.
Words will fail me to describe the surgical work God has done and is still performing in my heart through this HeartWork course. I would say it was made for me as God delivered me from an attitude that carelessness and ignorance brought me into and He geared me towards spirituality by His refining fire and the daily help of the Holy Spirit. My heart burns to walk more with God in consecration and to seek Him with my life and a longing desire for love with Him like David
I am very thankful for the HeartWork course and I am thankful about PDDK yielding to the Lord to teach the course. A week to this course, I had a situation that revealed envy in my heart and I cried to God singing the song "A Heart like yours is my desire" by Cece Winans. Two days later I got an email about the HeartWork Course with DDK. I knew God heard my cry. For the entire duration of the course, I could feel the conviction of the Lord as DDK was teaching and His love coming through her, and it was like I was hearing God inviting to me to Come.
FIREBRAND Forerunners Bible School Self Paced Course
FIREBRAND Forerunners Bible Course started in July 2019 and so far graduated over 2,500 students from the Program in four cohorts.
It is a Curriculum-based and Christ-Centered discipleship Course to prune, prepare and propel God's vessels of Revival working through ministry, missions and marketplace.
The Program runs only an online studentship that is self-paced, covering a spectrum of Biblical education for believers who are in the frontline of our Heavenly Father's Harvest.
The key goal of FIREBRAND Forerunners is to awaken co-laborers, men and women of destiny to step into the harvest of the end-time on the different mountains and spheres of influence. Every move of the Spirit in any generation must be forerun by spiritual preparation, discipleship into the ways of the Kingdom as well as significant intercession – so that those who carry the mandate of God are equipped with stamina and stature.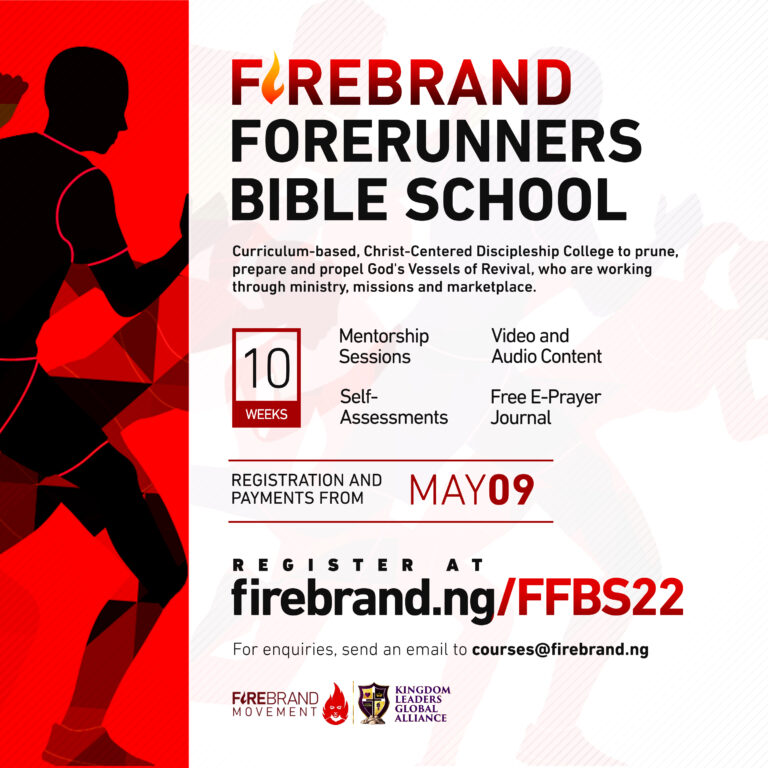 This Course is for men and women who are called as voices, scribes, thought-leaders, visionaries, influencers, intercessors and leaders, ready to be commissioned to execute the Kingdom Agenda through church leadership, Christian ministry, rural missions, entrepreneurship, social change or the home front.  
FIREBRAND Forerunners is a part of the FIREBRAND Movement, a Spirit-led assignment that opened up in 2017 with the launch of DDK's Books including FIREBRAND, FIREBRAND Psalms, FIREBRAND Prayer Journal and FIREBRAND Forerunners Book. It is awakening a God-hungry generation with FIREBRAND Festivals all around the country. 
FIREBRAND Forerunners Bible School Self Paced Course is for you if you are;
At the end of the FIREBRAND Forerunners Bible School Self Paced Course, you will:
FIREBRAND Forerunners Bible School Advanced Course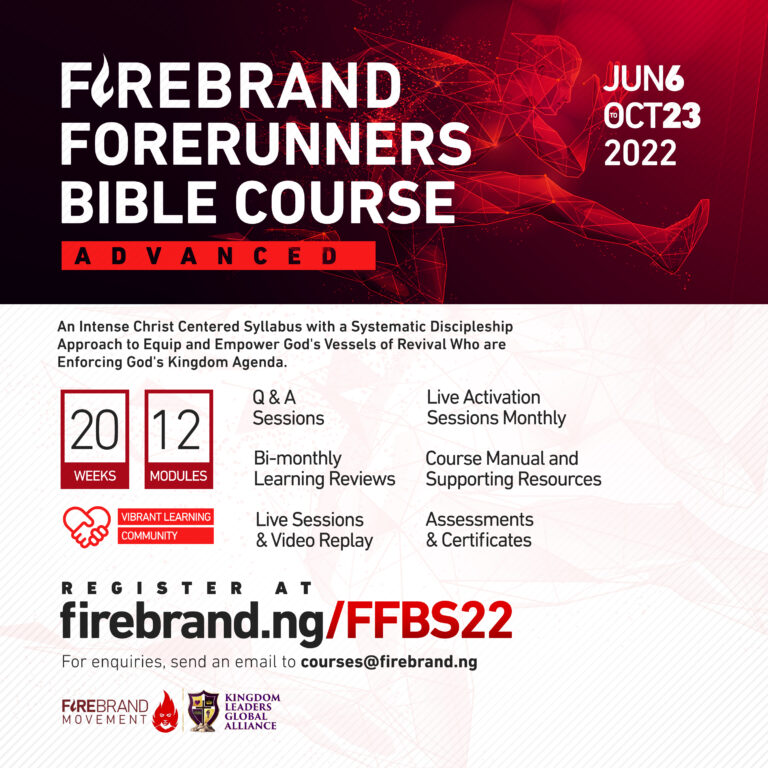 The FIREBRAND Forerunners Advanced Course came up as a result of the Holy Spirit stirring the heart of our President, Debola- Deji Kurunmi to raise, resource and release believers into Personal Spiritual Revival, so that they can become valiant vessels, visionaries and voices of God's Kingdom Agenda.
The FIREBRAND Forerunners Advanced Course is a 20-Week program designed with the help of the Holy Spirit to provide deep doctrinal teachings delivered through Weekly Virtual Sessions and Replays on the Learning Platform  as a way of schooling and raising believers who are well-grounded in the Faith of our Lord Jesus Christ.
This Course contains 10-12 Modules with supporting resources to guide you along your journey to Spiritual Maturity.
What's included in the FFBS Advanced Course
We've found our Programs to be such FIRE-LIGHTERS in the hearts of saints. Whether young or old, men and women alike go through FIREBRAND Movement and transform in the most unimaginable ways – as they come into deeper clarity about who they are, and what God has called them to do
Here are some of the Highlights of the FIREBRAND Movement - Our Results
Global FIREBRAND Community
Frequently Asked Questions
Reignited Prayer Life
It has been a wonderful and eye-opening experience for me. My prayer life has changed watery words to declarations and confessions of calling invisible Word (God) to be visible in situations, He didn't and failed. I've come to realise that I'm a Son and not a bastard nor orphan.
Laser Clarity
I'm thankful for this beautiful opportunity because I got so much clarity as to the touching purpose and destiny.
New Dimension in walk with God
Wooooo, it has been an amazing journey..I have been delivered from religion into life, my love journey with God has taken a new dimension and I'm more intentional about fellowship and how to maximize my potential in the mountain have been called to be a forerunner
Total Mindshift
The modules have a lot of light. It's been a total mind shift. I am more conscious of the kingdom now and I don't take things lightly any more. I am more attentive to what's going on around me.
Shattering of Unhealthy Mindsets
Learning from each module had been precept upon precept, unhealthy mindsets are been shattered already. This can only be the doing of God. All thanks to FFBS
Spiritual and Mental Shift
Being on this journey has challenged me to do better with the work God has placed in my hand. I have experienced a shift spiritually and mentally every session keeps bursting with insights. This can only be the move of God! God is evident in everything!
Knowledge of foremost fight
Beautiful, awesome and enlightening modules and sessions, I stay glued all through infact people around me know how concentrated I get whilst watching the videos. I understand precisely who I am as a forerunner, I can identify my foremost fight and how to navigate through. More than ever understand the nature of the challenges, it has been nothing short of enlightening from me. I am definitely going back to reread my downloaded notes.
I can see!
Scales have been taken off my eyes, I can now see clearly what God has always wanted me to see. Since I started taking this course, God has been dealing with me all around, from spiritual matters to my relationship with people around me. I can categorically say that FFBS has opened my mind to learning more about God and his desire for mankind, I have understanding I got clarity, my heart is opened to yielding and obeying. I am ready to forerun God's agenda in the heart of men. I have learnt and I will keep learning and implementing till the kingdom of God is established in the heart of men. Thank you DDK for yielding to God, thank you for yearning for more for him, thank you for giving yourself to the body of Christ. Thank you to all team members, the structures put in place has made it easy to learn and grow. Thank you for FFBS4!!!
Purpose
It's built a steady consciousness of purpose ...in the light of God's agenda
Intentionally walking with God
I've become more conscious and aware of the workings and promptings of the Holy Spirit. I would like to say that I'm becoming more of an up to date follower of God. I'm realizing more of the things I've never known in being deliberate and consistent with God. It's really been an amazing journey, God bless you DDK
God is my First Love
This program is an eye opener I have experienced another dimension in God. I have encountered God and now realized is my first love. As a forerunner that God has propelled and anointed me to prepare his way and set aside my plans and desires and summit to God's will. As a forerunner, i stand has gap interceding for my family and generation to come. As a forerunner, don't make myself popular but make God popular.
For more Information, Enquiries and Support, kindly email our team at courses@firebrand.ng or Call, text or WhatsApp on 07016363300